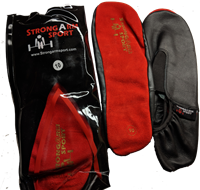 Getting your heels down as low as possible can really add to your deadlift:
- you are not angled forward at the bottom start position, putting you at a better angle for the all-important start of the pull.
- its one less inch or more that you have to pull compared to a normal sport shoe's heel.

StrongArm slippers are made from full leather, uppers and soles. Extra soft uppers for maximum comfort, while the sole is suede, so the rougher surface means a good grip on carpet, wood, rubber or whatever you are pulling on. Terry cloth inner soles for comfort, and elastic over the top of the foot for snugness.