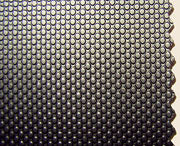 Sliding around on your bench too easily?  Need a more solid foundation?  We have the solution. 
Slip-Not Grip Fabric is a unique fabric, woven polyester material, coated with a PVC resin in a pebbled texture, to make it extremely grippy. Commonly used in making work gloves where a good grip is critical.  Material is a bit stretchy, so it will hold it's appearance for years.
One piece is 54" x 20", which should be enough to cover most standard benches, but contact us if you have a special need of any kind.  
Price includes shipping.